Feel the exhilarating tingle of fresh air and rushing water as you journey into the Cascade Mountains along the McKenzie River. Revel in the solitude among sun-soaked old-growth forests, then find camaraderie in the half dozen riverside communities.
Relax at the Lodge
Another great thing about the McKenzie River are the numerous yet secluded riverfront lodges, cabins and campgrounds. Most of the lodging is snug along waterways or tucked up into woodsy acreage. Reserve a collection of cabins for a large group reunion or sneak away from everything to a cozy B&B.
From luxurious lodges to sleeping under the stars in a wooded campground, there are plenty of places to stay. 
SIGNATURE EXPERIENCES
Ride the crystal clear rapids of the McKenzie River.
Wade in waist-deep to fly fish along gentle river stretches.
Soak in a hot spring-fed swimming pool above the McKenzie River.
Feel the thundering spray from massive falls along a waterfall trail loop.
Pedal up and over McKenzie Pass between melting snowdrifts.
Identify over a dozen snow-capped mountain peaks presiding over a gleaming obsidian landscape.
Have a pint of local brew on the back patio at Obsidian Grill and soak in the sunshine or warm up by a fire pit. 
Watch chainsaw-wielding artists transform stumps into intricate sculptures.
Grab some comfort food at Takoda's.
Infuse your afternoon with the scent of fresh lavender from nearby fields and bring some home to remember your trip.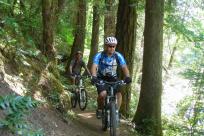 The McKenzie River region is a surprisingly robust mountain biking destination — and especially…
More

Info

›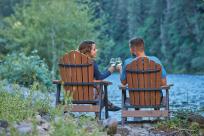 Stay right on the river in a well-situated McKenzie River lodge or cabin. Throughout the autumn…
More

Info

›
McKenzie River Restaurants
Dig into something delicious at a local restaurant along the McKenzie River. From pizza and pulled pork sandwiches or an organic salad made with locally sourced ingredients, these delectable dishes taste even better after a day spent exploring the grand landscapes of the river valley. Some local dining establishments can be very busy in high-season, so it is smart to plan ahead. You may even want to stock up on provisions on the way out of town or shop the Blue Sky Market or McKenzie General Store for extra treats and convenient picnic goods.
McKenzie River Events
The McKenzie River communities host some very special events every spring and summer. The Wooden Boat Festival takes place in the spring at Eagle Rock Lodge on the banks of the McKenzie River. The festival also includes the Wooden Drift Boat Parade on the "wild and scenic" designated river.
In the summer, smell the sweet scents of the Lavender Festival at the McKenzie River Lavender farm. The region is also host to the McKenzie River Arts Festival where wood carvers create intricate masterpieces using chainsaws.
In the winter, the scenic covered bridges glow with holiday light displays.