Local Food Scene
You may have just found gastronomic heaven.
A hundred-mile radius around Eugene - Springfield encompasses the agricultural bounty of the Willamette Valley; verdant foraging, fishing and hunting in the Cascade Mountains; and fresh seafood from the Pacific Ocean.
Combine the fertile foodshed with one of the nation's purest water sources, internationally applauded winemaking, a craft beer haven, and a community committed to sustainability, for an amazing immersion in Pacific Northwest regional dining.
Culinary adventures across the Eugene, Cascades & Coast region bring visitors together with farmers, food producers, winemakers, brewers and chefs. Master chefs from our local communities preside over gourmet dinners and food events. Gleaming commercial-sized kitchens host cooking competitions or demonstrations. Farmers sell directly to restaurants or consumers at daily markets or roadside stands. And diners linger over flavorful meals in elegant or causal eateries.
We invite you to take a taste! 
From street tacos to vegan wraps, Eugene's food trucks and food carts offer casual culinary

Spring means the beginning of the long and bountiful outdoor market season in Eugene. Farmers'

As close as Oregon's delightful wine country is, sometimes wine tasting right in town fits the
When in Oregon, eat as Oregonians eat!
Eating provides a tangible and tasty connection to local culture with its regional agriculture, ethnic heritage and current community values. The slow food movement, the 100-mile lifestyle, "farm-to-table," and a growing appreciation for regional specialities supports culinary tourism as a travel centerpiece.
Willamette Valley is a prime agricultural zone surrounded by abundant natural resources, so it's not surprising that the region's residents are avid locovores. A full spread of delectable food and beverage products are grown, harvested, raised, foraged, fished, hunted and produced locally.
Restaurants and food carts dish up tantalizing seasonal meals. Community gardens, natural food stores, farmers' markets and direct buy opportunities are prevalent. While on vacation, immerse yourself in culinary tastes, textures, smells and visual delights for a complete sense of place.
Whether you hike to the top of a Cascade mountain peak or relax along Oregon's coastal shoreline at sunset, pack a picnic comprising local foods, wine or beer, and really savor being in Oregon.
Join in a food festival or make reservations for a special chef's dinner.

Immerse yourself in the local farm-to-table dining scene.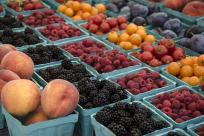 Plan your adventures around these seasonal culinary highlights Enjoy the harvest with us! Check…
More

Info

›