Oregon beer has garnered national recognition with sustainable brewing, award-winning craft brews, distinctively cool microbreweries and burgeoning gastropubs.
Throughout the region, beer aficionados appreciate the variety of beer from international selections to home brews poured at local sports bars, breweries, beer gardens, bottle shops, taphouses and growler fill stations.
Breweries, Taphouses & Pubs
While you are out on your pub crawl, please use chauffeured transportation or designate a sober driver. Uber and Lyft are available for last minute rides. Below is a list of taxis, limousines and fun ways to roll across the region. 
PARKING IN THE WHITEAKER NEIGHBORHOOD
The Whiteaker neighborhood is a residential area with several breweries (Ninkasi, Hop Valley, Oakshire and Falling Sky Pour House) on the Eugene Ale Trail. Parking is limited and carpooling is highly recommended. Please be respectful. Always avoid blocking driveways. Responsibly walk or cab when consuming adult beverages.
MAP IT
Twenty-four hour service. Fast, clean with courteous drivers. Vans available for groups, scenic tours and special events. Receive a 20% discount on advance reservations to airport.

701 High St, Eugene OR 97401

P: 541.434.8294

Book Now
MAP IT
Emerald City Pedicab is here to make transportation to your next event fun! This bicycle rickshaw can pedal you on tours of Eugene's breweries, murals, and miles of bike paths. You can also schedule the pedicab to be transport for you wedding or event. Emerald City Pedicab will make your next tour of Eugene a memorable one. You can also find them at Cuthbert Amphitheater shows, UO sporting events, and other large local gatherings.

Eugene OR 97401

P: 541.833.0022

Book Now
MAP IT
Sunshine Limo Service provides full service luxury and corporate transportation. They operate late-model town cars, Escalades, SUVs and spectacular stretch limos seating from 2 to 22. From classics to party buses, from red carpets to balloons, they can make it happen! Great for airport transfers, prom, bachelor/bachelorette parties, weddings, Christmas light tours and team-builders. Specializing in wine tours state wide.

191B Wallis St, Eugene OR 97402

P: 541.344.5466

Book Now
MAP IT
Ride in style and comfort in one of their 16 or 20 passenger limo style party buses or the eight passenger limousine. They can take your group on a winery, brewery or distillery tour, bachelor and bachelorette parties, help plan corporate events and make the best birthday party ever! From Quinceaneras and Holiday Light tours to shuttle services to concerts, airport, or the Oregon Coast they can accommodate you. Their experienced planners can take care of all the details. Sit back and relax and My Party Bus will show you around town, from the Cascades to the Coast you will be in good hands!
Serving Lane County and most of Oregon, Eugene OR 97402

P: 541.554.7979

Book Now
MAP IT
America's Hub World Tours is a professional service company possessing extensive local knowledge, expertise and resources, specializing in the design and implementation of events, activities, tours, transportation and program logistics. They specialize in customized unique travel experiences in the Pacific Northwest. From a selection of FIT to group package excursions with scheduled and customized departures, transportation and tour activities for groups, business travel, leisure, conference and conventions. The company is based right here in Eugene.
205 E. 6th Ave., Eugene OR 97440-0253

P: 503.896.2464

Book Now
MAP IT
Best Oregon Tours is dedicated to sharing the best our beautiful state has to offer. Create a customized trip around Eugene, the Coast or the Cascades to experience world class nature, history and culture. Savor wines at South Willamette wineries, hike to a waterfall, tour covered bridges or take in a new adventure at the Oregon Coast. Their tour guides are knowledgeable, well traveled, credible experts and can help your group enjoy a memorable experience to hidden gems and along roads less traveled. TripAdvisor Review: "We only had a few days to spend in Eugene, but wanted very much to get a sense of the countryside—taking Best Oregon Tours did just that and more. While we initially signed up for a covered bridges tour, Clem (owner and guide for the day) designed an itinerary with the bridges and an insightfully rich introduction to the region. He was flexible in shaping the itinerary to not only meet our interests but also to include sites we would not have discovered on our own, including vineyards and other producers of local specialized products . What we really enjoyed, though, was his knowledge of the architecture, history and current state of rural life in Oregon—and the enthusiastic and personable way in which he shared it. Best of Oregon Tours—highly recommended!" - Cynthia/Silver Springs, Maryland

Serving Eugene, Cascades & Coast, Eugene OR 97401

P: 503.572.5323

Book Now
MAP IT
Sip, Savor, Explore Oregon will take you to experience the beauty that Oregon has to offer. Go with your friends to explore South Willamette Valley Wineries, or the Oregon Coast. Enjoy a picnic while looking at the scenery that Oregon has to offer, and sip a glass of wine from one of the many notable wineries. Relax and enjoy with Sip, Savor, Explore Oregon.

MAP IT
Oregon Tour Experts seek to collaborate with industry partners to bring you the most memorable experiences throughout Eugene and the Pacific Northwest. They offer event planning services for small and large groups, conferences and conventions. Their services include Step-on-Guide services and VIP excursions in Mercedes Sprinter Vans, mini-buses and full size motor coaches. What makes Oregon Tour Experts unique is that they offer tour excursions year round with daily schedule departures (City, Wine, Coastal, Brewery, Distillery, Crater Lake and more).
PO Box 253, Eugene OR 97440-0253

P: 503.896.2464

Book Now
MAP IT
LTD's national award-winning public transit system provides fixed-route, convention and special event bus service throughout Eugene, Springfield and the surrounding communities. All LTD buses are wheelchair accessible and equipped with bike racks. RideSource is a curb-to-curb service for riders with disabilities meeting certain eligibility requirements.

1080 Willamette St, Eugene OR 97401

P: 541.687.5555

Book Now
MAP IT
FUN! Company encourages people to enjoy Cottage Grove to its fullest potential. The founders strive to have visitors and locals love the town as much as they do. FUN! Company runs the Hot Spot Café, which has everything you're craving: hot and cold drinks, sweet treats, breakfast, lunch and dinner. FUN! also has a catering service run by their talented executive chef, bicycle and electronic bike rentals, and different tours of the area. Snatch up some Cottage Grove souvenirs at the FUN! Depot, along with clothing, snacks and kids' toys. Their Hot Spot Café and FUN! Depot are open daily from 6 a.m. to 8 p.m.

819 E Main St, Cottage Grove OR 97424

P: 541.566.7442

Book Now
WHY IS EUGENE CRAFT BEER SUPERB?
Our ultra pure water from the McKenzie River
An emphasis on local and regional ingredients from hops to grains
A local legacy of home-brewing before, during and after prohibition
The Whiteaker neighborhood and downtown Eugene hubs are infused with bottleshops, taphouses and growler fill stations. There is great pride in the local beer, which graces many restaurant menus and even turns up at urban wine bars. So really, there is no excuse for not drinking good beer while in town.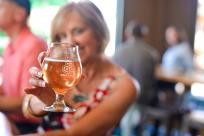 Oregon is recognized for its amazing hand-crafted brews, local hops and skilled brewmasters. Like…
More

Info

›
Please consume responsibly. Designate a driver, call a cab or use public transportation.