Back To Previous Page
How to Watch the Duck Football Games
Published: November 05, 2020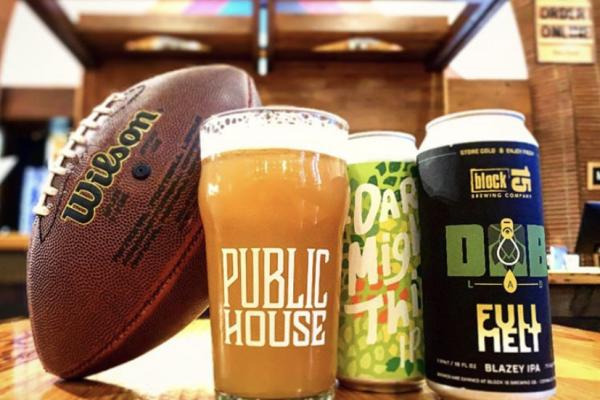 The Ducks are going to play! We are all so excited to see the games, but what is the best way to watch?
This year, due to protocols around COVID-19, the Ducks won't be playing football in front of fans in the stands. Nor will tailgating at Autzen Stadium be permitted.
The University of Oregon encourages you to cheer on the Ducks from home with just your household — games will be broadcast on the Oregon Sports Network (radio) and you can also download the game app on your phone for all the latest buzz, social streaming and live audio broadcasting on game day.
Some games will be televised, including the Stanford game on ABC, the UCLA game on ESPN and the Oregon State game on ABC/ESPN. Fill up some growlers of your favorite local craft beer, order a pizza or some wings, and settle in for a comfortable football experience with all the replays.
Where to Watch Duck Football (Not at Home)
If you can't watch the football game from home, there are other options. Please remember to limit your group size to ten, maintain social distancing from others and wear a mask. The following restaurants and venues will show the game, but please call ahead to make sure you know the protocols and to reserve a table if needed.
PublicHouse in Springfield
Your favorite beer hall will broadcast the game inside and you can enjoy great beer and food. Seating is physically-spaced and masks are required when moving about PublicHouse. All food and beverages are ordered through their contactless ordering system, so please be prepared with a credit card as cash is not currently accepted. Minors are welcome here, so this is a good place to bring the family. Plus there are so many different food options to choose from!
6th Street Grill & Pub in Downtown Eugene
The 6th Street Grill's sports bar will open to show the game on the big screen. Their menu is modified and reservations are recommended as occupancy is limited. 
Sam's Place Tavern in West Eugene
At Sam's Place Tavern it's just like usual with their 25 TVs and friendly atmosphere! Come in and enjoy the game, first come, first serve. Please observe COVID-19 protocols and social distance. There is a limited capacity, so come early!
TREV's Sports Bar
Reservations are recommended at TREV's for watching the game. This has long been a popular student spot before and after the game — now it's the spot FOR the game! COVID-19 protocols will be in place and capacity is limited, so plan ahead.
The Paddock Salon & Grill
This south Eugene hub is all set with physically-distanced tables. The Paddock is a neighborhood favorite and will be seating on a first come, first serve basis.
Blue Bills Sports Bar in the Three Rivers Casino - Florence
The Duck game will be on screens in the Blue Bills Sports Bar. Seating is first come, first serve. Enjoy November specials along with their regular menu. The game will also be on some screens out on the casino floor. Protocols are being taken to ensure a healthy environment.
Casey's RV Park in Westfir
Roll on into this forest-getaway for your own private tailgate. Casey's has the Pac-12 television package, so hook up and tune in for game day viewing!