The Eugene Ale Trail spotlights our region's best breweries with a beer trail. Many breweries are clustered together, so it's easy to pub crawl — like in the Whiteaker neighborhood, the Westside Warehouse District or downtown Eugene. 
Well-known breweries include Ninkasi, Hop Valley and McMenamins. But we also encourage you to discover some of the smaller outlaying brewers like Jerry's Place Bar & Grill featuring What'cha Brewing (Florence) and the 3 Legged Crane Pub and Brewhouse (Oakridge). They are worth the drive!
Breweries on the Eugene Ale Trail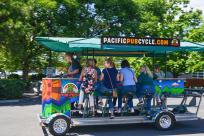 Tour by Pacific Pub Cycle
Make arrangements for cruising several craft breweries on the Eugene Ale Trail by pub cycle — inquire about group minimums and available…

Get a free travel guide
Please consume responsibly. Designate a driver, call a cab or use public transportation.