Downtown Eugene
Downtown Eugene has many iconic attractions that draw visitors to the city's center. Kesey Square, named after the famous author, is a dining hub with food trucks and destination eateries from Sizzle Pie to Voodoo Doughnuts. The Hult Center is Eugene's performing arts mainstay and the Park Blocks host the colorful Saturday Market and Lane County Farmers Markets. And once you are downtown, you'll discover an array of fantastic boutique shops, art galleries and great restaurants. Find great downtown happy hours for discounts at local businesses.
Downtown Walking Tours
One of the best ways to explore Eugene's downtown is by walking tour. You can do a self-guided tour of historical buildings or the international collection of outdoor murals, or you can enjoy a guided tour by America's Hub World Tours. They offer a fantastic "foodie" tour and a city tour which also includes adjacent neighborhoods.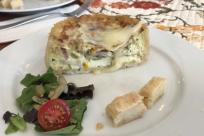 What's one of the best ways to explore a city? Through its food! Rebecca, my fellow "foodie" friend…
More

Info

›
Getting Around Downtown
The Amtrak depot and the LTD public bus system's main transfer station are in downtown Eugene. There are also city parking garages which offer free parking on Saturdays and Sundays baring special events. Plenty of metered parking spots and pay lots also surround downtown. 
Once you are here, getting around is easy with PeaceHealth Rides which is a bicycle ride share program. Downtown Eugene also has Uber and Lyft operating.
Please note: In downtown Eugene, bicycles and skateboards are not allowed on sidewalks within the "walk zone". Please walk your wheels when using pedestrian space. Also, if you are walking your dog downtown, your dog is required to be licensed within the downtown core.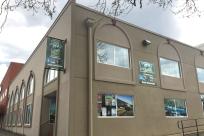 Helpful maps, brochures and information! Get your questions answered and shop for souvenirs…
More

Info

›
MAP IT
Jazzy Ladies Cafe & Coffeehouse offer all homemade and handcrafted breads, soups, salads, sandwiches and baked goods. Serving breakfast and lunch six days a week with a coffee bar that offers specialty coffee drinks. Plenty of gluten and dairy free options. Located in downtown Eugene. Featuring "hot food, warm smiles and cool jazz."

560 Oak Street, Eugene OR 97401

P: 458.201.7062

Book Now
MAP IT
The Jazz Station is a small, intimate venue featuring live jazz music on Broadway Street in the heart of downtown Eugene. The venue offers musicians and jazz lovers of all ages a unique and comfortable space to perform and listen to live jazz music. They also have an art gallery featuring local artists with a free reception with wine tastings during the First Friday Art Walk. The space can seat up to 70 people and is available for rent.

124 W Broadway, Eugene OR 97401

P: 458.205.1030

Book Now
MAP IT
A Eugene institution, Bagel Sphere serves up delicious, authentic boiled and hearth-baked bagels for bagel lovers of all kinds. Featuring 17 varieties of scrumptious bagels and great breakfast and lunch items, you wont be going hungry here. Also offering espresso, coffee, tea and other choice beverages; Bagel Sphere has got you covered for a great breakfast any day of the week! Locations in downtown Eugene and West Eugene.

810 Willamette St, Eugene OR 97401

P: 541.341.1335

Book Now
MAP IT
Experience delicious Thai food and friendly service that has been consistently voted as the Best Thai in Eugene Weekly's Best of Eugene every year since 2008. Their fresh and healthy dishes contain no MSG, no dairy and include plenty of vegetarian options. The extensive menu features flavorful dishes made from family recipes handed down from generation to generation, all prepared with attention to consistent quality and flavor. TaRaRin's original location in Downtown Eugene, established May 2004, also features a full bar. Additional locations are in Springfield (established May 2012) and opening soon on Coburg Road in Eugene. Dine in or carry out.
1200 Oak St, Eugene OR 97401

P: 541.343.1230

Book Now
MAP IT
The new darling of pastries, Noisette, which means hazelnut in French; is run by pastry chef Tobi Sovak formerly of both King Estate and Marche. Local translation? This place is delicious! Relying on local and seasonal ingredients, Noisette offers a plethora of pastries, breads and desserts along with sandwiches, salads and homemade soups. Casual counter service and limited seating. Confections catering and wedding cakes are also available.

200 W Broadway, Eugene OR 97401

P: 541.654.5257

Book Now
MAP IT
Theo's Coffee House offers unsurpassed espresso drinks, breakfast and sandwich lunch specials. Tables and couches make a comfy, yet spacious setting with murals and tall open ceiling. Open weekdays, 6 a.m. and weekends, 9 a.m. Multi-business area also offers pizzeria, bookstore and nightly entertainment. Located in downtown Eugene.
199 W 8th Ave, Eugene OR 97401

P: 541.344.6491

Book Now
MAP IT
Northwest-style restaurant right across from the Hult Center — a popular pre- and post show dining and drinks destination. Steaks, seafood, gourmet pastas, burgers, salads and more. Brunch on Saturdays and Sundays. The executive sports bar with flat screen HDTVs is ideal for watching sports. Special event and meeting space can fit up to 100 people in a 'mix and mingle' style set-up or up to 55 people seated. There is a big screen for presentations.
55 W 6th Ave, Eugene OR 97401

P: 541.485.2961

Book Now
MAP IT
Located in Eugene's downtown Broadway and Pearl district, Ambrosia Restaurant is well loved for its warm atmosphere and wonderful Italian cuisine prepared in vibrant Pacific Northwest style. Their seasonal menu features nightly specials, local produce, seafood and meats, handmade pastas, wood-fired pizzas and great desserts. Extensive wine list and sommeliers on staff, full bar featuring local beers, hand-crafted cocktails and sodas. The beautiful Cellar Room can seat up to 50 guests banquet-style, or serve 65 guests for a cocktail party.

174 E Broadway, Eugene OR 97401

P: 541.342.4141

Book Now
MAP IT
A Northwest brewery and gastro-pub inspired by the joyful atmosphere of Munich beer halls and the comfort of neighborhood London pubs. Sip dozens of handcrafted beer styles or custom sodas while munching on their special pub menus. Mingle at picnic-style tables in the beer hall or relax in the beautiful outdoor beer garden. When it rains, they pour pints at a 25 cent discount. Look for two additional locations; the delicatessen and the pizzeria. Catering available.

1334 Oak Alley, Eugene OR 97401

P: 541.505.7096

Book Now
MAP IT
Lion & Owl serves up brunch and dinner for the fierce and wise. They started out serving out of a converted Airstream trailer in 2016 and have grown into a full-service restaurant and a local favorite. This upscale dining establishment offers an elevated dining experience that foodies will love. Located in the heart of downtown Eugene.
60 E 11th Ave, Eugene OR 97401

P: 541.606.0626

Book Now
MAP IT
Civic Winery & Wines is downtown Eugene's newest urban winery, wine bar and bottle shop, housed in a restored 1930s 10,000 square foot building. It is in the heart of downtown on 11th and shares space with Lion & Owl brunch restaurant. Civic focuses on organic and biodynamic grape production instead of industrial production. The beautifully finished building features the same unique wooden truss system that was used in the Civic Baseball Stadium. Even though the stadium burned down, the legacy lives on.

50 E 11th Ave, Eugene OR 97401

P: 541.636.2990

Book Now
MAP IT
Located in the heart of Eugene's urban wine district, Capitello Wines Tasting Room showcases small-batch handcrafted wines from owner/winemaker Ray Walsh's native New Zealand as well as the fertile South Willamette Valley. They feature local beer on tap as well in addition to Walsh's award winning wines, including Pinot Noirs, Sauvignon Blancs and Brut Sparklings. Rotating local art on display.Featured monthly events include Drag Queen Bingo and Cooking Classes! The Barrel Room event space available to rent for private events.

540 Charnelton St, Eugene OR 97402

P: 541.520.3092

Book Now
MAP IT
An urban wine bar featuring a tasting lounge and winemaker events. The Oregon Wine LAB's proprietor Mark Nicholl focuses on local artisan brands. He is also a vintner, making wines under the William Rose Wine label. Da Nang Vietnamese Eatery food cart is on site daily.
488 Lincoln St, Eugene OR 97401

P: 458.201.7413

Book Now
MAP IT
Hot Mama's Wings is a neighborhood restaurant in South Eugene, just twelve blocks from the University of Oregon campus and five blocks from downtown. Consistently voted Eugene's "Best Chicken Wings," they are an authentic American eatery known for excellent service, delicious food and a neighborhood atmosphere. The menu features local ingredients, bold flavors and uses hormone and antibiotic free chicken, beef and pork. The restaurant offers a sports pub feel, great for watching a game with a full bar emphasizing regional beer consistently rotated. Outdoor seating is available.

420 W 13th Ave, Eugene OR 97401

P: 541.653.9999

Book Now
MAP IT
The Vintage is an intimate, charming restaurant with a great bar in downtown Eugene. They specialize in crepes, fondue (chocolate and cheese) and creative cocktails. The menu also features great breakfast items, soups, salads, sandwiches, pastas and pub fare. Great nightly specials. Voted "Best Burger & Brew," "Best Cocktails," and "Best Date Restaurant." The restaurant was converted from a charming old house to a delightful restaurant by owners Megan and Shannon in 2005. There is upstairs seating and patio space.

837 Lincoln St, Eugene OR 97401

P: 541.349.9181

Book Now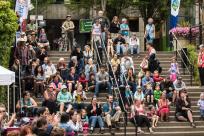 From live music and performing arts to foodie festivals and cultural gatherings, discover downtown Eugene's robust calendar.…
More

Info

›