Back To Previous Page
Top Things to Do This Summer
Published: June 11, 2021
Summertime in the Eugene, Cascades & Coast region is a glorious time of year. From Oregon's sun-streaked beaches to the cool Cascades, nature invites you outside. The weather ranges from hot and balmy to comfortably cool. Daylight stretches out, starting early with rosy hues in the east and concluding with vibrant after-dinner sunsets over the ocean.
Summer Road Trips
There is so much to see across the region. Whether you rent an RV, drive your own car or take public transit, exploring is full of surprises and delights! Plan ahead, bring supplies with you and enjoy the journey.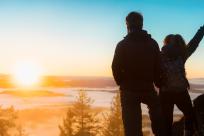 Don't leave home without checking this handy list of local tips for outdoor adventures!…
More
›
Mountain Retreats
Get away from it all with immersion in the beautiful old growth forests of the Cascades. Along the banks of the McKenzie and Willamette Rivers rediscover the joy of nature while fishing, rafting or picnicking. Hike to a waterfall, mountain bike a single-track trail, ride horses or an ATV through a remote pasture. Paddle across a mountain lake or look for wildflowers, mushrooms or birds.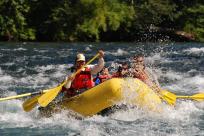 Raft the crystal clear river, fish for steelhead or soak in the hot springs.…
More
›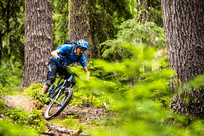 Charge world class mountain biking trails, hunt for mushrooms or ski the slopes.…
More
›
Cool Off on the Coast
Everybody loves to head to the coast for a reset. From thrilling adventures on the sand dunes to exploring Historic Old Town Florence to serene walks on an empty beach, the much-needed experience is there for you. With so much to do on the Oregon Coast, you'll want to extend your stay or come back several times.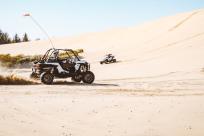 Your portal to Oregon's massive sand dunes.…
More
›
Summer Water Adventures
Sailing, water skiing, jet skiing, paddle boarding and wakeboarding adventures are within fifteen minutes of the Eugene - Springfield metro area. Kayak across Waldo Lake, one of the clearest lakes in the world. Pools and water parks also offer refreshing destinations on warm days. For the adventure seeker, whitewater rafting offers thrills.
We expect the water levels to be lower this summer which may mean that some boat ramps and waterway access points may not be useable. Check water levels before heading out. Also, with warmer water temperatures, some lakes and still bodies of water may have an algae bloom. Keep pets out of algae-infested waters, don't swim or eat fish from those areas.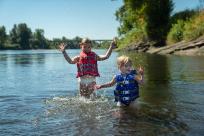 Playing in the water can be the best part of summer — and Oregon's got plenty of the wet stuff!…
More
›
Local Food, Farm Tours, U-Picks & Markets 
Tour an Alpaca farm or stay overnight on a working farm and lend a hand feeding livestock or weeding a garden. Fill a basket with strawberries, blueberries or peaches at a "u-pick" farm or just stroll the flowery paths of rhododendron and rose gardens. From lavender to hazelnuts, agricultural destinations are humming with activity.
Live Music & Entertainment
We've all been missing this so much! Luckily you can sit back and enjoy the music at several outdoor spots across the region this summer.
The best places to go include downtown Eugene's Broadway Streatery. Throughout the summer live music and other art installations will grace the downtown blocks closed to traffic so that restaurants can offer spacious outdoor seating. Also, visit the many beautiful wineries across the Willamette Valley. Places like Silvan Ridge, Abbelone and Bennett Vineyards often host outdoor entertainment. Call ahead to see if it is a ticketed event or by reservation as protocols are subject to change without notice.
Shopping districts and malls may have music, including 5th Street Public Market, Oakway Center and Historic Old Town Florence. Small towns from Cottage Grove and Coburg to Oakridge, often host a series of "Concerts in the Park" on weekends during summer months. Sit back, relax and enjoy the charms of small town America.