Visit the University of Oregon
The beautiful University of Oregon (UO) campus is between downtown Eugene and downtown Springfield, and easily accessible from Interstate 5. Visitors can stroll the leafy campus, explore the museums, shop at the bookstore and enjoy the college ambiance.
Campus tours are offered at the Ford Alumni Center, or download a mobile app and tour the UO's sports facilities, historic buildings, innovative learning centers and many museums independently. Founded in 1872, the school is now home to over 25 research centers and institutions, offering over 250 academic programs to more than 24,000 students.
Student Life
University district hubs include E 13th Ave and Alder St on the west periphery of campus, the blocks adjacent the Matthew Knight Arena in the vicinity of Franklin Blvd, and in the Historic Hayward District along Agate St and E 18th.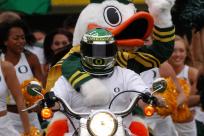 The Oregon Duck football team is legendary from their local, roaring crowd support to their always-in-style Nike uniforms.…
More

Info

›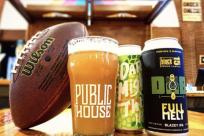 When the University of Oregon Ducks have an away game, or when you don't have tickets to Autzen…
More

Info

›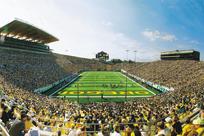 Take your trip to Eugene for the Ducks football game to the next level by turning it into a…
More

Info

›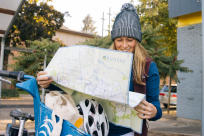 Hop on one of those big blue bikes that you see all over downtown Eugene and across the UO campus…
More

Info

›
UO Campus Area Hotels
Find hotels within an easy walk, car or bike ride of University of Oregon sporting and entertainment venues. Hotel hubs include those along Franklin Boulevard, downtown Eugene, and Springfield. Need help finding a room for one night, or extended stay accommodations for the term? Please contact our visitor center staff at 541.484.5307 for personalized lodging assistance.
University District Food & Drink
Find nearby restaurants, bars and eateries. On campus, the EMU has several cafes and dining options. Along East 13th and Alder St discover a cluster of coffee shops, bars and restaurants. At the intersection of Agate and East 19th, there are multiple restaurants including an ice cream shop and craft brewery. More restaurants are along Franklin Boulevard.
Campus Events
Events on or near campus include sports events, theater performances, art shows and lectures.
The UO main campus is 295 acres (119 ha), designed primarily for pedestrians and cyclists. Lane Transit District's bike-friendly buses and efficient EmX line, connects campus with an extensive network of destinations through-out Eugene - Springfield. UO students ride free! Visitor parking permits are available for purchase at the information kiosk on E 13th Ave and Agate St in front of Oregon Hall, or at Matthew Knight Arena.
Students and visitors may also enroll in the PeaceHealth Rides bike share program for short rides across campus or to downtown Eugene. Additional bike services are available for students on campus, including a bike repair work space, cycling classes and longer bike rental options.
Hold Meetings & Events on Campus
Consider an academic or athletic backdrop for conferences, meetings and other special events! Travel Lane County can help identify available meeting space and make appropriate introductions to UO staff.
MAP IT
Nestled in the lush Willamette Valley, with an easy drive to both the Pacific Ocean and the Cascade Mountains, the University of Oregon is renowned for its research prowess and commitment to teaching. They exist to provide Oregonians and their peers from around the world access to an excellent education. They challenge their students to question critically, think logically, communicate clearly, act creatively, and live ethically. They serve the people of Oregon, their nation, and the world through research, teaching, and outreach that benefits humanity, drives innovation, strengthens the economy, and transforms lives. To explore hosting a meeting or event on campus, visit our Conference Services website at https://conferences.uoregon.edu/.

1585 E 13th Ave, Eugene OR 97403

P: 541.346.1000

Book Now
MAP IT
The Erb Memorial Union (EMU) is a popular hub for all University of Oregon students. This beautiful, state of the art building includes places to shop and eat, as well as services of all kinds. The EMU offers a wide variety of services and equipment that supports facilitation of events and programs on the UO campus. With collaboration between various departments and students, the EMU consistently delivers high quality service to produce successful events as well as cultural, educational and recreational activities.

1395 University St, Eugene OR 97403

P: 541.346.4163

Book Now
MAP IT
The Student Recreation Center provides a variety of indoor and outdoor facilities for recreation. The facilities include the 250,000 square foot Student Recreation Center and Aquatics Center, Gerlinger, Gerlinger Annex, the Student Tennis Center, Macarthur Court, 18th Street Tennis Courts/Track, natural and turf fields.

1273 University of Oregon, Eugene OR 97403

P: 541.346.4183

Book Now
MAP IT
Cheer the Ducks on by attending a Pacific-12 Conference sporting event. Whether it is football, basketball, track and field, baseball, tumbling, tennis, golf, cross country, softball, soccer, lacrosse or volleyball, you will enjoy the excitement of UO collegiate athletic events.

2727 Leo Harris Pkwy, Eugene OR 97401

P: 541.346.4461

Book Now
MAP IT
Established in 1992, the Hall of Champions enshrines trophies and memorabilia from glorious moments in University of Oregon sports history. The Hall of Fame is dedicated to UO athletes, coaches and administrators from over half a century. The collection is open to free public viewing on week days from 8 a.m. to 5 p.m. and four hours prior to home games.

2727 Leo Harris Pkwy, Eugene OR 97401
MAP IT
The University Theatre offers five main stage shows per year and has recently revitalized their summer program. The shows take place in the Miller Theatre Complex which offers both the Robinson Theatre (300 person capacity) and the Hope Theatre (125 person capacity). The University Theatre is a part of the University of Oregon's Department of Theatre Arts. They offer the opportunity for all University of Oregon students to participate as actors, directors, designers, choreographers, playwrights, composers, musicians, technicians, publicists and more.

Miller Theatre Complex (Franklin Blvd & 11th Ave), Eugene OR 97403

P: 541.346.4363

Book Now
MAP IT
The Osher Lifelong Learning Institute at the University of Oregon (OLLI-UO) is part of a national network of over 120 programs designed to engage seasoned adults in the continued pursuit of knowledge. OLLI-UO is an intellectual and social community of engaged adult learners. Nearly 800 members receive year-round access to a variety of lectures, short courses, peer-led study and discussion groups, educational tours and field trips, and shared interest groups. A one-time annual fee covers all courses that a member enjoys during fall, winter, spring and summer terms.
975 High St Ste 110, Eugene OR 97403

P: 541.346.0697

Book Now
MAP IT
Established in 1933, the Jordan Schnitzer Museum of Art (JSMA) is a family-friendly destination that provides innovative exhibits and programs. With four major exhibitions yearly and galleries devoted to art from Asia, America and elsewhere, there is always something new to see.
1430 Johnson Ln, Eugene OR 97403

P: 541.346.3027

Book Now
MAP IT
At this world-class museum, visitors explore 15,000 years of Oregon's cultural history and 300 million years of its natural history and geology in a Northwest Coast longhouse-inspired building. From the world's oldest shoes to the giant spike-tooth salmon, the museum celebrates Oregon's deep history through striking imagery, rare artifacts and fossils, and hands-on displays for visitors of all ages. General admission is $6, youth and seniors are $4 and families are $12. Free admission on the first Friday each month. Visit the museum's website for the most current information about public hours.

1680 E 15th Ave, Eugene OR 97403

P: 541.346.3024

Book Now
MAP IT
Hayward Hall is a place to celebrate the legacy of UO Track and Field. Inside this 4,000 square-foot space visitors can interact with displays that tell the story of this historic program. While walking the hall you can see team trophies, The Bill Bowerman workshop, and other highlights from the years. Visitors can take a moment to relax in salvaged seats from the "presidential box" at Historic Hayward Field while they watch a short film on the history of Oregon Track and Field. Hayward Hall works to incorporate the past of UO Track and Field, while looking toward all that is to come for TrackTown USA.

1580 E 15th Ave, Eugene OR 97401
MAP IT
The largest indoor venue in Eugene - Springfield; Matthew Knight Arena is the perfect atmosphere for sports, entertainment, concerts, conferences and exhibitions. State of the art technology enhances both the athletes', performers' and the audiences' experience. A seating capacity of 12,000 seats augmented by over 200 televisions throughout, and a massive Jumbotron-style scoreboard. Ample bicycle parking and public transportation access. Adjacent to the University of Oregon campus and near hotels and dining.

1390 Villard St, Eugene OR 97403

P: 541.346.4461

Book Now
MAP IT
The largest and loudest outdoor sports arena in Oregon; the iconic Autzen Stadium seats 54,000. The Ducks play on FieldTurf, beneath a massive mega-screen dubbed "Duck Vision." The complex includes sky suites and boxes, a 10,000 sq. ft. club room, concessions, merchandise outlets, box office, guest services, bike corral and adjacent meeting and event space. Find pre-game entertainment in the Moshofsky Center. Shuttle service is also offered from eight Park & Ride locations across town. Mallard Park Hospitality Tents can accommodate up to 500 for private tailgating parties.

2727 Leo Harris Pkwy, Eugene OR 97401

P: 541.346.4461

Book Now
MAP IT
The newly renovated Hayward Field at the University of Oregon is a world-class track & field facility. Completed in 2020, the venue seats 12,000 (expandable to 25,000) and includes modern men's and women's locker rooms, an equipment room, video room, weight room, indoor practice area, and training and sports medicine facilities. Fans enjoy unobstructed sight lines throughout, great acoustics, proximity to athletes and spacious seating. The multi-story landmark tower features a lobby filled with interpretive exhibits, an observation deck, viewing areas, elevator, and a staircase to the top. The 40,000-square-foot Hayward Hall provides a museum-style experience with tributes to Historic Hayward Field and prior events, coaches and athletes.

1580 E 15th Ave, Eugene OR 97403