UO Campus Restaurants & Bars
Encircling the University of Oregon campus are great restaurants, bars, coffee shops and food trucks. Many are clustered near The Duck Store (13th and Alder),Matthew Knight Arena (Villard and Franklin Boulevard), and Hayward Field (19th and Agate). Students have gathered at Rennie's Landing and other area bars for decades. Other traditional hangouts include Glenwood Restaurant, Pegasus Pizza and Prince Pucklers.
Twice a year the Associated Students of the University of Oregon (ASUO) host a multi-day street fair along 13th Ave featuring a variety of food carts.
MAP IT
Consistently voted 'Eugene's Best Italian Restaurant' by The Register Guard, Beppe & Gianni's is a staple in the Eugene community. They offer a sunny, warm Tuscan villa ambiance to the University of Oregon campus, with a cuisine to match. They offer an incredible authentic menu with an extensive wine list. They've been serving traditional Italian cuisine since 1998.

1646 E 19th Ave, Eugene OR 97403

P: 541.683.6661

Book Now
MAP IT
Conveniently located in close proximity to downtown Eugene and the University of Oregon. Locally owned and operated, Chula's Restaurant and Cantina features delicious authentic style Mexican food. Menu features fajitas, enchiladas, burritos, street tacos, homemade tamales and so much more. The entire menu is free of preservatives with plenty of gluten and dairy free options available. Full bar has delicious margaritas, daiquiris and specialty drinks.
610 E Broadway, Eugene OR 97401

P: 541.246.8665

Book Now
MAP IT
Elk Horn Brewery is a gastropub serving delicious Southern style food with a Pacific Northwest twist. They have 24 taps and craft their own soda, cider and beer. The brewery is located below the restaurant, in a renovated two-story building. Elk Horn serves daily specials created by the owners Stephen and Colleen Sheehan, founders of Delacata food cart. Located at the corner of Broadway and Hilyard, just a short walk from downtown Eugene and the University of Oregon campus.

686 E Broadway, Eugene OR 97401

P: 541.505.8356

Book Now
MAP IT
Located just a block from the University of Oregon campus, this cozy pub is a favorite campus hot spot. The restaurant offers casual Northwest-inspired fare alongside handcrafted McMenamins' ales, wines and spirits. A great place to gather with friends and enjoy pool tables, shuffleboard and darts. Find additional McMenamins locations on High Street and along the Willamette River.

1485 E 19th Ave, Eugene OR 97403

P: 541.342.4025

Book Now
MAP IT
Track Town Pizza has been serving the Eugene area since 1977. Located on Franklin Boulevard across from Matthew Knight Arena and the University of Oregon. Great campus tradition and local favorite. Wide selection of microbrews, great salad bar and pizza. Open late. Delivery available.
1809 Franklin Blvd, Eugene OR 97403

P: 541.284.8484

Book Now
MAP IT
The Wild Duck Cafe offers delicious, contemporary Northwest cuisine with an emphasis on local ingredients and sustainable practices. With party-planning proprietor Bob Jensen at the helm, and a fun, brew pub atmosphere; the Wild Duck is a sure campus favorite. Located directly across the street from the Matthew Knight Arena, on the ground floor of the Skybox apartments, it's also a natural gathering place before and after big events. Get out on the town and taste the local spirit!
1419 Villard St, Eugene OR 97403

P: 541.485.3825

Book Now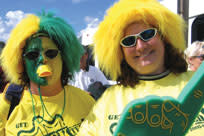 Make your plans for University of Oregon home football games…
More

Info

›

Plan your trip to Eugene, Cascades & Coast.